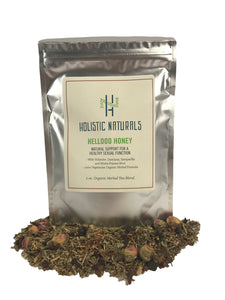 Helllooo Honey Herbal Tea
$ 2189

$ 21.89

Save $ 3.10
---
---
Our Helllooo Honey blend brings the perfect sexual balance to both male and female by building libido, enhancing the mood and promoting sexual organ function.  Contains Damiana, Rose Hips, Gotu Kola, Schizandra Berry, Muira Puama Root, Yohimbe, Sarsparilla
Libido and Mood Enhancer – Gotu Kola & Yohimbe, both fight fatigue, enhances mood, builds libido, and increases arousal.  Sarsparilla helps impotence and brings on the passion.

Hormone Balance – Damiana is hormone balancer and relaxes the body and mind.  Schizandra Berry activates the nervous system without the use of caffeine. This special herb enhances sexual qualities by aligning the brain and body.
Sex Organ Function - Muira Puama is a powerful root from the Amazon.  It increases blood flow in both male & female sex organs as it increases the libido in both to stimulate the body's sexual functions. Yohimbe aids sexual dysfunctions in males & females by allowing blood to flow smoothly.
THESE STATEMENTS HAVE NOT BEEN EVALUATED BY THE FDA, THIS PRODUCT IS NOT INTENDED TO DIAGNOSE TREAT, CURE, OR PREVENT DISEASE.